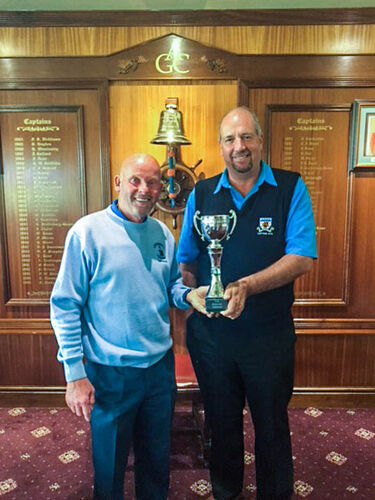 It was Ashton's turn to host the prestigeous AshLee Trophy in it's 30 year celebration yesterday (Sunday 7th Aug).
The Trophy was originally formed by our 1984 Past Captain: Bill Low e and 1984 Past Captain (and also Past Captain of the Liverpool Society of Golf Captains) Geoff Swift . The tournament is annually contested in great spirit and it was a delight to see Mr Swift on hand as the invited VIP, to oversee the days events and presentations.
In blazing hot sun, the mighty Ashton Team, headed by our Captain Lol McNally, leading from the front, held a very strong
Lee Park GC team, to hoist the Trophy aloft, for the 3rd year in succession.
Paired against the current Lee Park Captain Mr Alan Pennington, the match outcome swung to and fro as holes were halved in (gross) Birdies! Standing on the 13th ( and trailing 1 behind Captain Lol ) Captain Alan tee'd up a nice 5 iron to launch the ball into the strong headwind....only to see the ball land gently on the green... and roll straight into the cup for his first Hole In One !! (*incidentally, Captain Lol also had his first Hole-In-One on this same hole last year!)
After he had calmed down and provided the usual alcoholic treats for all concerned, Captain Alan had to once again concede defeat to a very strong and capable Ashton showing, losing the Match: 5 1/2 to 4 1/2.
Captain Lol is shown receiving the beautiful Ashlee Trophy from Lee Park Captain Alan Pennington.
*The Trophy is to be hosted at Lee Park GC next year, so if you want to be part of a winning side, you'll have to get your name down quickly on next year's team sheet.