Liverpool Society of Golf Captains
The Liverpool Society of Golf Captains' Autumn Tournament was held this week at Ramside Golf & Country Club, County Durham.

Captain Lawrence McNally arrived in style to the Captain's Cocktail Presentation after the Society sent the personal Bentley of the luxury hotel's Chairman to collect him!
Ex-Captain Terry Hateley-Lowe rounded off the evening in equally grand style by winning the Champion Golfer of the Week and the John Benstead Trophy.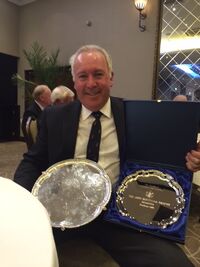 Congratulations to them both and hope all Ashton attendees had a great time.
Ladies 'Try Golf Initiative'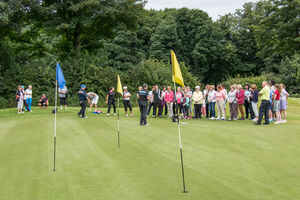 Sunday 14th August 2016 heralded the first of several 'Try Golf' taster sessions for potential lady golfers who may wish to join Ashton Golf Club. There was a promising turnout of ladies of all ages and following an introduction by Garry Lacy and Peter Allan, everyone made their way to the new 13th green where Peter and Richard held a putting and chipping clinic before everyone was invited to 'have a go'. Hopefully the day whetted their appetite and they will all be back again next week. A selection of photographs from the day can be seen in this SLIDESHOW
If you are interested in joining, why not take advantage of our Summer Special Offer :
Three months membership for only £50
Membership until MARCH 2017 only £450
No Entrance Fee - yes its FREE! plus appropriate deductions for Junior Members.
Please contact Secretary/Manager Garry Lacy on: 01942 719330
Ladies Social Events
We are a very active Ladies group enjoying a full diary of competitions and a wide variety of Social gatherings,
Click here - To view the Social Events Calendar 2016

Click here - To view slideshow of a small selection of photographs of the Lady members and friends enjoying a variety of Walks, Afternoon Tea, The Queen's 90th Birthday Celebrations, Xmas Red & Green Golf Day and the Ladies Golf District Championship Team for 2016.
Ladies' Competitions:
The ladies have priority of the golf course on Wednesdays.
Throughout the summer season there are weekly 18-hole and 9-hole competitions, in which the majority of ladies play on a Wednesday.
However, as the ladies' competitions open on a Sunday and close on the following Wednesday evening, it is now possible for ladies to participate in the weekly competition on the Alternate Day of the previous Sunday (in accordance with the Rules of England Golf). This format has been chosen to enable ladies who work or for other reasons are unable to play on the Main Competition Day.
The results of the two days are combined for the allocation of prizes, which are awarded weekly at approximately
9.00 pm on the Wednesday Prize Presentation Evenings.