New Captain and President - 13th December 2016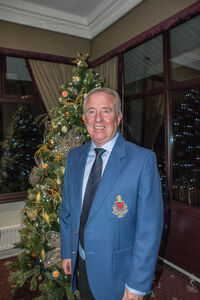 Following the AGM held on Tuesday 13th December 2016, members enthusiastically endorsed the appointment of new Captain Michael Bohannon. After receiving the Captains Jacket he thanked the new President for his kind words in proposing him and thanked Past Captains for their confidence in nominating him as the Captain for 2017. He looked forward to representing the Club to the best of his ability and was proud to be part of Ashton Golf Club.
The evening also saw the installation of new President David Pendlebury-Green who became the first member to follow his father Ken as both a Captain and now President of Ashton Golf Club.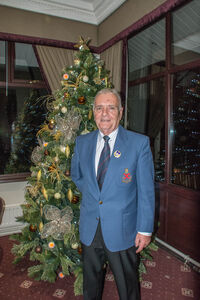 Congratulations to both and best wishes for a successful year of office.
Captain's Farewell Evening - 10th December 2016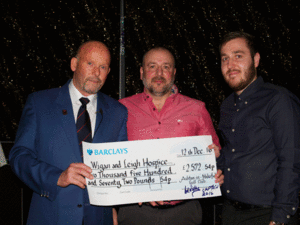 It has been a very busy but extremely rewarding year were the sentiments expressed by outgoing Captain Lawrence McNally at his Farewell evening on Saturday 10th December 2016.
In a clubhouse packed with family, friends, members and visiting officials from other local golf clubs, the Captain thanked his wife Marcie and family for their valued support throughout the year together with everyone from Ashton and surrounding golf clubs who had made his year of office so memorable. He also wished incoming Captain Michael Bohannon every success for the forthcoming season.
On behalf of the Guide Dogs Association, the Captain was presented with a framed plaque in recognition of his fundraising efforts which has enabled a young Labrador to be named Ashton and receive training to be an effective Guide Dog and someone's faithful companion. The plaque has now been installed in the Clubhouse.
A fundraising total of over £5,500 also meant that a cheque for over £2500 could be presented to Wigan and Leigh Hospice during the Farewell evening.
A gallery of photographs of the evening can be seen in the Members Gallery
Lady Captain 2017 - Viv Birchall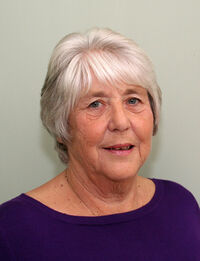 I am honoured and proud to represent Ashton-in-Makerfield Golf Club as Lady Captain for 2017. I look forward to welcoming members and visitors to our wonderful Golf Club. The Ladies Section has a full calendar of golf competitions and social activities throughout the year which are all thoroughly enjoyable.
We have an excellent Ladies Committee and Ladies Section who support me and the club throughout the year.
I would like to thank them for all their hard work in ensuring all competitions and social activities are a success.
I am looking forward to working with the Captain, Mike Bohannon and the Junior Captain, who will be announced in March, throughout 2017.
Finally I would like to wish all our members and visitors a successful and enjoyable 2017
Ladies Social Events
We are a very active Ladies group enjoying a full diary of competitions and a wide variety of Social gatherings,
Click here - To view the Social Events Calendar 2016_17

Click here - To view slideshow of a small selection of photographs of the Lady members and friends enjoying a variety of Walks, Afternoon Tea, The Queen's 90th Birthday Celebrations, Xmas Red & Green Golf Day and the Ladies Golf District Championship Team for 2016, plus the Ladies VETS Competition for 2016.
Ladies' Competitions:
The ladies have priority of the golf course on Wednesdays.
Throughout the summer season there are weekly 18-hole and 9-hole competitions, in which the majority of ladies play on a Wednesday.
However, as the ladies' competitions open on a Sunday and close on the following Wednesday evening, it is now possible for ladies to participate in the weekly competition on the Alternate Day of the previous Sunday (in accordance with the Rules of England Golf). This format has been chosen to enable ladies who work or for other reasons are unable to play on the Main Competition Day.
The results of the two days are combined for the allocation of prizes, which are awarded weekly at approximately
9.00 pm on the Wednesday Prize Presentation Evenings.